DJ Dan Williams | The Drift
April 04, 2017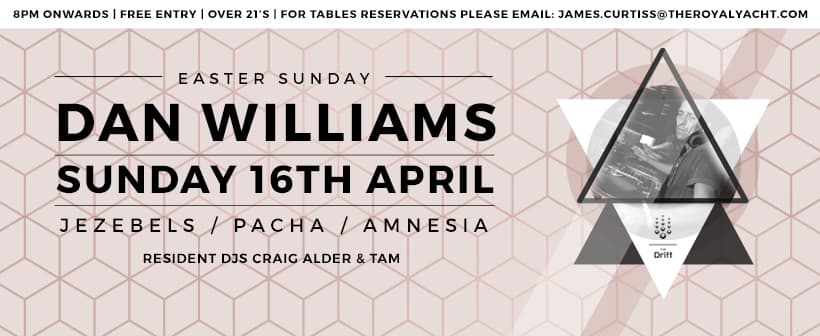 Sunday 16th April 2017
DJ Dan Williams
Jezebels / Pacha / Amnesia
Residents
Craig Alder & Tam
8pm onwards
Free Entry
Over 21's
For Table reservations please contact:
Please arrive early to avoid disappointment
DJ DAN WILLIAMS
Dan Williams was Jezebel's main DJ since the party began in 2002. As well as carving out his own DJ career he has played every Jezebel event worldwide. Playing every event from Ibiza to  L.A,  New  York,  London,  Mumbai  and  Berlin,  his  attitude represents  a  passion  for  djing forming the prefect sound to rock any dance floor."I play across the board –no boundaries. It's only ever being about getting people to dance."
---
For  four  years  Dan  played  alongside  some  of  the  world's  finest  DJs  every  week,  including Jazzy  Jeff,  Mark  Ronson,  David Guetta,  Pete Tong, Groove Armada,  Rob  Da Bank  and the Nextmen – with both Mark Ronson and Rob Da Bank giving Dan heavy props after witnessing him play.
---
The  summer  of  2008  saw  Dan make  a  phenomenal move from the more  intimate  style  club rooms to the main room sets in clubs across Ibiza. Jezebel's residency moved from Pacha's Global Room and joined forces with Manumission at Amnesia.
---
This  move  gave  Dan  the  platform  he  was  hungry  for  to  play  the  House,  Techno  and Electronic music  that  he  had  been  unable to  playing in Jezebels  previous  homes  giving  him the  chance  to  play  alongside  DJs  such  as  Fatboy  Slim,  2ManyDJs  and  The  Glimmers amongst others. This subsequently has propelled Dan as a DJ and Jezebel as a night up to the level and maturity of their fellow DJs and nights
on the island and across the world.
---
The tour activity over the past few years has seen him DJ across the globe in places such as New York, Miami, Hong Kong, Istanbul, Barcelona, Madrid and many more. Dan  is  busy  in  the  studio  producing  his  own  tracks  and  has  worked  with  artists  such  as Estelle,  Mark  Ronson  and  Eliza  Doolittle.