Taste Jersey 2023
Showcasing The Best Island Produce
In association with Luxury Jersey Hotels, Taste Jersey returns for the third year from 23 March to 9 May 2023. March 2019 saw the launch of Taste Jersey through a partnership between Luxury Jersey Hotels and the Jersey Evening Post with the aim of showcasing the best of island food and drink.
Jersey's land and sea offer such an abundance of excellent produce, from seafood to dairy to Jersey Royal potatoes and more. For a small island, Jersey offers far more than its share of local delicacies. In Cafe Zephyr there is a strong seafood element to Executive Chef, Inaka Weerasinghe's menu with produce such as oysters, scallops, crab and lobster all on offer. We are extremely lucky to be able to access such fresh produce here in Jersey and our menu in Cafe Zephyr really showcases this.
'The crabs, oysters and scallops are so fresh, they are incredible. When I was working in Dubai, we used to serve Jersey oysters but they had travelled thousands of miles to reach us. It was a similar story in London, where you might be lucky enough to get some fish on the day it was caught but you would often have to wait until the next day. Here, though, the produce only travels a couple of miles. The trawlers dock at Victoria Pier and, even if you walked to the hotel from the boat, it would only take ten minutes to get the fish into the kitchen.' – Executive Chef, Inaka Weerasinghe
Exciting dishes that you will find on our Taste Jersey menu include Rockefeller Scallops, Jersey Seafood Linguine and Half Grilled Lobster. You can also enjoy Jersey Oysters 3 ways; Crispy oysters, pear, citrus mayo and fennel salad, Rockefeller oysters & Fresh with lemon.
What makes the Jersey Oysters so special? 
'The Island has the third-largest tidal range in the world, which means that the oysters are out of the water for up to 12 hours per day, which strengthens them. When you combine that with the clear waters, warm temperatures and sunshine, you get a wonderful firm fish. Scallops benefit in a similar way and, while we may not have the biggest versions in the world, they are definitely among the sweetest that you will find.'
Call 01534720511 to book a table or book online
Eat like a King on Coronation weekend!
Experience our 'Taste Jersey – Seafood Tasting Menu' in Sirocco
Saturday 6th May | 7-9pm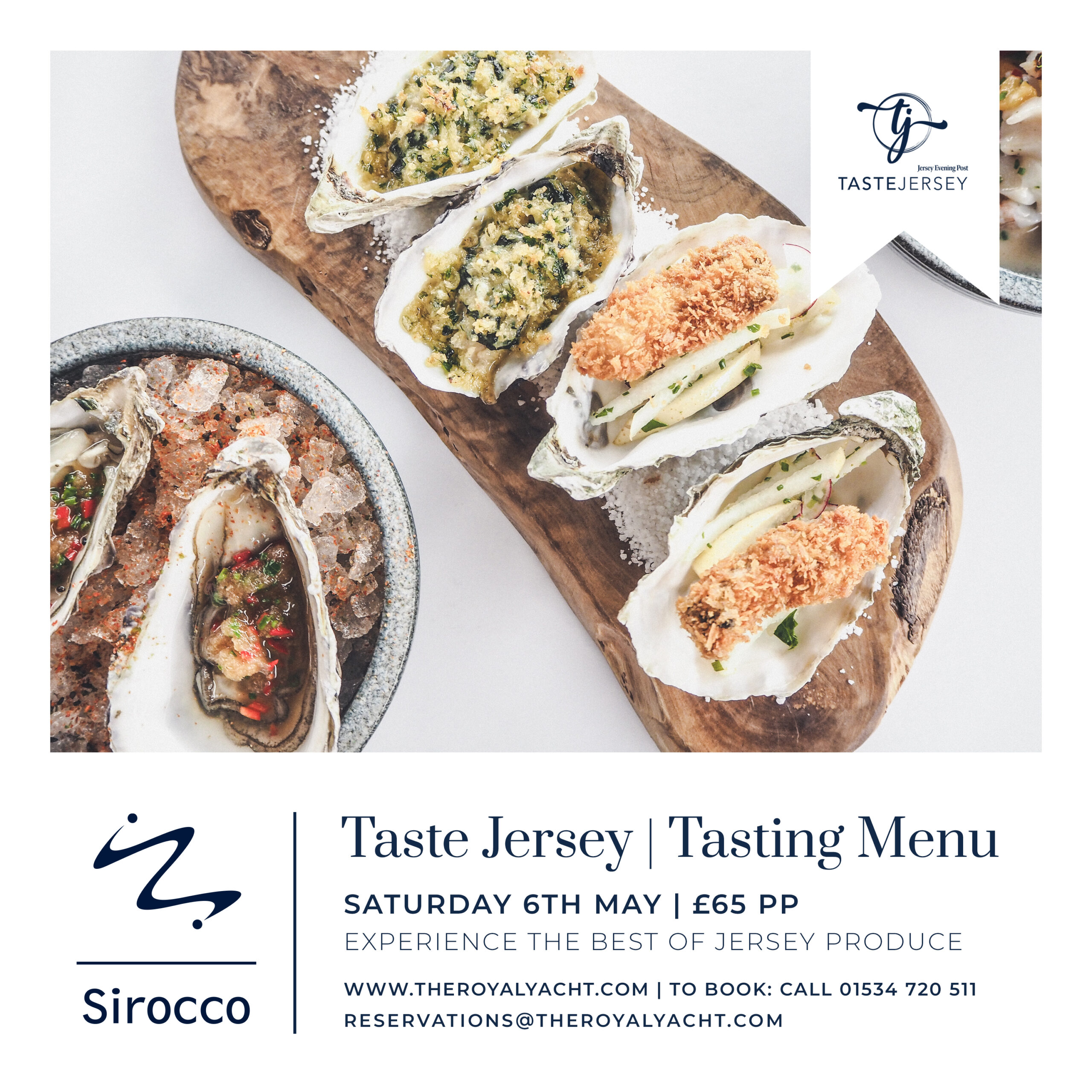 Enjoy our 5 course seafood tasting menu in Sirocco, where Executive Chef, Inaka Weerasinghe, will be showcasing the best of our local seafood produce including Jersey oysters, scallops, crab & local bass finished off with a delicious Jersey Black Butter & Chocolate Tart.
Click here to view the menu | Vegetarian menu also available (Click here)
To book your table please call 01534720511 or email: [email protected]